Omron plc password cracker. PLC password protected
Omron plc password cracker
Rating: 6,8/10

1711

reviews
how to crack password Omron CPM2A
You can narrow the scope of field investigations, save considerable time and cost on projects, and move more quickly to the groundbreaking stage. However, I will continue to password protect any software I write until the end of the defects liability period. If you start at the beginning and work your way through all the exercises, you will gain enough proficiency to manage complex projects. Your instructor will discuss these with the class. Hi Nixon, You are obviously about ten years old so I'll be nice to you lol. Hiện nay em đang gặp phải một vấn đề cần bác trợ giúp.
Next
Crack password CP1H PLC Omron
If it were protected by the manufacturer, I'd recommend not to purchase machines from that company again. Candidates should have English language skills equivalent to at least level C1 of the Common European Framework of Reference for Languages. Paper 1 has five tasks, requiring labelling, short answer and longer written responses. Try looking here for some help. Unfortunatelly he's unreachable right now, dunno where he is.
Next
Crack PLC HMI
At the end of each module, you will find a set of review questions to reinforce critical topics from that module. Nếu bác sử dụng phần mềm thì bác có bán phần mềm phá password không? Full details about each of these modules can be found at: 1. But as usual there more then one side. Insurance is expensive enough now. The passwords are there just make things hell, when you are trying to repair the machine. I do not have any proprietary type code generally, but I can understand integrators protecting code from theft that they have spent many hours developing.
Next
Crack password CP1H PLC Omron
I made them sign a legally binding contract to cover myself. Assignments are completed throughout the course at intervals determined by the centre. If You participate in Interactive Areas, You are responsible for Your own communications and the consequences of posting Your communications. I might add that if the code is written and commissioned properly, there should be no need to alter it. I might add that I do a site where access was required all the time. Delta is designed for candidates with previous English language teaching experience. Companies like mine can't sit around waiting for you guys to fix a fault like this, we have to be in there sorting it.
Next
Password protection on Omron PLCs
Cracking a password to gain access to the existing program is a subject not permitted on this forum. And after a short while, the maintenance man will know the machine better than its creator, thats a fact. These focus on: analysing and responding to adult learner needs analysing language for teaching purposes teaching language skills reflecting on classroom teaching To be awarded the certificate you must pass both components. Passwords are used to protect intellectual property rights, and as such, cracking is tantermount to piracy! Later you arrive to the machine, and surprisingly somebody change the program, even according to you customer nobody did it… So yes, with this tool you will avoid this typical situations. Assessment is based on your overall performance. God bless your little white socks.
Next
PLC password protected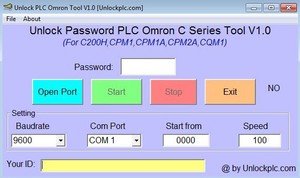 Most manufacturers, and users of this forum, will gladly tell you how to perform a 'factory reset'. Please help us here, if anyone know how to break this code? About 90% of the time I do not even have to open the laptop. And believe me, theft of code occurs regularly despite copywrite protection which is as useless as tits on a bull. You did not explain the reason why you want to crack the password. I hope you can understand and respect our decisions.
Next
Password protection on Omron PLCs
You may need the software that is in the guide. The only other reasons to beg for a password cracking tool are: 1. Fundamental concepts and exploring of the interface will be covered. This link was marketing a software program that could do such illegal activities. You sent your perfectly tested software to the end-user to download to their machine, and suddenly the machine don´t works! Sometimes you develop something and its already ment to be owned by the customer.
Next
Password protection on Omron PLCs
Timers, may need adjusting more often than anything else. Have a look from the other side of the fence. Few years a go i knew a man which can break this code. The assignments consist of written essays 2,000-2,500 words per essay and for the Language System and Language Skills assignments: the planning, teaching and evaluation of a lesson. Maybe to avoid last time changes, or maybe because is your everyday bread. Dewaz, Without wishing to sound too bombastic, if you did a seach on this topic, you will find that no-one here on this forum or pretty much any other forum will give any help or advice on cracking password protection.
Next
Crack PLC HMI
Known across the world, this Cambridge English exam opens doors to jobs and further study. So what faults occur in the machines infancy may be unique and difficult to foresee. Whats more, when you design a machine for your customers its usually unique, designed to your customers requirements. Hi, Thought I'd put my penny's worth in. You will just need to work with the manufacturer of plc system. We support a free web and welcome your ideas and generally will stand behind your posts.
Next
Omron Program Password Protect
That way, when there's a problem, atleast the lock can be smashed, if required, but people who have no business messing with the stuff can't access it. When I do a job with generators, I put pass word protection on the program due to the defects liability period. Anyone who wanted the program could have it by many other ways, but when someone tries to maintain a machine, that's been operating for years without interuptions, then where the hell are you gonna come up with the password? If you loss your data in your computer you have to reprogramming the plc. That why it is not recommending to set password. The password is there in plain number format and usually in more than one spot. It is all about protecting the intellectual rights of the owner or publisher of the control program in the machine.
Next